Short presentation
par admin - 18 décembre 2009
PETRA comes from the desire to establish a technical study and research devoted to sound and hearing.
There is no similar structures in Toulouse and its region. Therefore on various funding (including funding Longspan the CNRS for PETRA 2) Mirail University was equipped with an important technology around the audio.
Composition of the different elements of PETRA

PETRA 1 : as an experiment room treated specifically for speech and a technical room. The set allows for the acquisition of the groups. This room has been operational for several years.


PETRA 2 consists of an audiometric booth characterized acoustically and allows the acquisition of sounds in an isolated environment, and various experiments in psychoacoustics.


PETRA 3 consists of one room audio acquisition in hospitals (Pavillon Baudot, Purpan Hospital). This room allows data acquisition in cases of oral diseases.
The unit is connected over a dedicated server.
General scheme of the implementation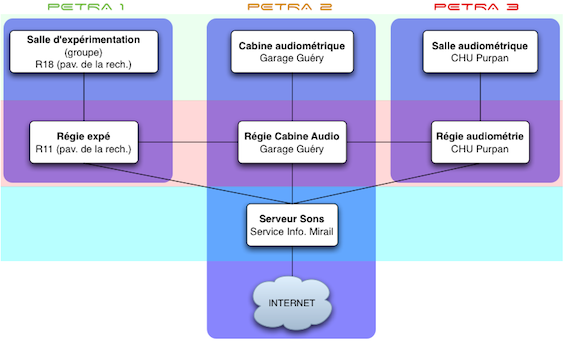 Geographical situation of PETRA